moissanite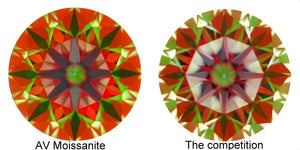 Super Ideal Cut Moissanites: Part 2 Refractive Index 0
While moissanite is a very diamond looking material there are certain gemological features about them that distinctly separate it from diamond.  Two of those distinct features that separate it from diamond are ... 
The fact that it is doubly refractive as opposed to singly refractive and
Moissanites have a higher refractive index than diamond does.